Not only does summer start June 21st. It´s also THE DAY to celebrate different kinds of transformative processes!
Through an interactive exhibition you can …
experience …
the transformation of the Transformation::Spaces for future-oriented learning, short "Trafos", themselves. Explore what has happened so far! (C25.019)
the "future wall". Participate in how the story continues!
a little journey through space (C25.021) prepared by students of the course "From walk and talk to WALK THE TALK. Cultivating an entrepreneurial mindset."
get interesting insights into …
students´ learning journeys. Look behind the scenes of competency development! (C25.007)
how to make a vertical farm yourself! (C25.006)
how the Trafos are actually operating! (C25.006)
taste …
Wareniki (Ukrainian dish offered by a student initiative)
all different kinds of contributions to a potluck buffet
what the Trafos Community is like!
We are looking forward to seeing you there June 21st!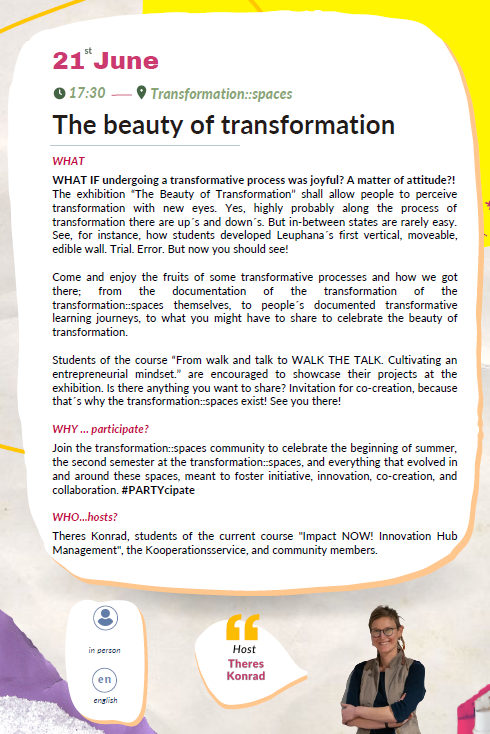 Agenda
17:30 Personal welcome and mingle
17:45 Opening words and guiding information: Why this event? Why Trafos? What to explore?
18:00 Exploration phase!
18:45 Coming back together: Sharing impressions
19:15 Wrap up & start of community dinner
… along with music, spontaneous conversations, … celebrating summer, co-creation, innovation, …
See you at the Trafos (C25)!